If you've ever wandered through a cosmetics department, you may have seen the utility belts stuffed full of makeup brushes strapped to the waists of makeup artists beating away at the faces of their clients. I've always loved a gorgeous set of brushes, but when I was one of those artists I understood the panic and confusion when a client would ask "but which brushes do I
need
?" I thought about it, and came up with a basic collection of three eyeshadow brushes for powdered eyeshadow (loose or pressed).
My favorite brand of brushes is
Laura Mercier
(all photos courtesy of LauraMercier.com) . While they aren't cheap, they are definitely the best brush for the long run. I've had my brushes for easily 8 years, and they are still in perfect shape with minimal maintenance.
First, is the
Eye Colour Brush
. It's a basic brush with flat and tapered bristles and an oval tip, ideal for applying all-over lid color and brow-bone highlight colors.

Next is the
Eye Crease Brush
. Rounded with tapered bristles, allows for easy application to and above the crease (for "hooded" lids) and makes blending easier than with similar softer brushes.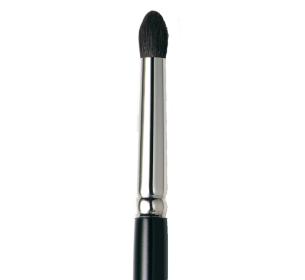 Lastly, my favorite brush is the
Corner Eye Colour Brush
. This brush helps create the most sought after "smokey" effect by allowing for definition and gradual layering. Holding the brush vertical and along the top lashline, sweeping from outer corner in towards the center of the eyelid, a bedroom eye-smokey lashline is quickly and easily applied with whatever deeper shades you choose. Additionally, it makes taking that same deeper powder shadow and making a soft undereye smoke effect effortless.
Creating intense or natural looks are easier than you think, especially if you have brushes that you know how to use. Patience and practice is always recommended for beginners and remember, less is always better. You can always add on color or intensity, it's impossible to take it away (though with blending you can get pretty damn close). Don't be afraid to play with your eyeshadow!